How to get to
Corralejo
Visiting Corralejo is very easy as it is right in the heart of the modern islands of Fuerteventura.
Getting to the island
There are daily flights by many airlines that go directly to Fuerteventura, and of course also ferries from Lanzarote so it is only a short trip to here.
From the Airport
It is about 35km from the airport to Corralejo, and takes more than half an hour to drive. While there are several routes possible as a visitor it is always best to take the coast road, or "FV-1", which has the most impressive views of the sea. Do take the FV-3 detour around the capital of Puerto del Rosario though to avoid the traffic within that area.
There are also public bus which allow you to make the transfer, by it will be necessary to change at the main bus stop in Rosario. You need to take the number 3 bus from outside the airport, ask the driver to ensure he is going towards the town, and then at the bus stop in the town you should change to the number 6 which goes to Corralejo. The total cost for both busses per person is about 5 Euros so this is a very budget way to travel. website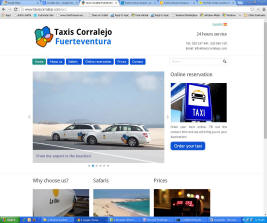 Alternatively of course a taxi is a good option. For a normal taxi the trip will cost around 50 Euros, but of course that is spread among the passengers so not unreasonable on a per person basis. Normal public taxis are available from the stand immediately outside the arrivals hall where it joins on to the departures hall.
You may also consider taking a local transfer shuttle coach of which there are plenty of choices. Consider this example.
From Caleta de Fuste
Situated just two km along the coast from the airport this popular town is easily reached to and from Corralejo by bus or by taxi as suggested above.
From Lanzarote
Regular ferry services are run from Playa Blanca on Lanzarote to the port at Corralejo by Fred Olsen Express.
Ferries run six times a day starting at 6:30 and take about 25 minutes by high speed boat. The prices of the tickets are 27 euros, but there is a discount to buy them on the web bringing the price down to 24 euros per person. website