Activities in and around Corralejo
Visit the Fish Spa Boutique for a unique experience - website
Explore the Sand Dunes at - Parque Natural de Corralejo
Play a 9 hole round of golf at Mirador de Lobos Golf
Visit the village of Lajares - Just 10 minutes drive away this traditional village has had little development and so still is caught in a timewarp of pre industrial days. See how the whole of the Canary Islands was in previous ages when wind power and donkey power ruled! At Artesania Lajares you can see demonstrations of traditional lace making by hand.
Acua Water Park - Previously called "Baku", this small salt water park with slides, pools and a lazy river is a great day out for people with children, the youngsters particularly will enjoy their time here! Entry fee is 25 euros but there is discounts for afternoon-only tickets. Closed during the winter period. website
Learn surfing - there are a wide range of choices for surf schools offering lessons and equipment in the town
Try kite surfing - Step up to the next level and take advantage of the steady winds that come to the nearby beaches and the plentiful room to try this new sport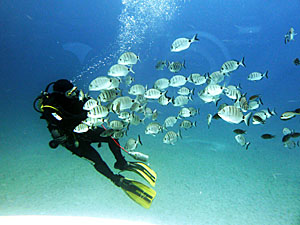 Go diving - The waters really are a deep blue and swimming in them with Scuba gear is a once in a lifetime experience
Take a sub ride - Want to see the fish but don't get wet? Take a ride in one of the mini-submarines that ply the waters around Corralejo.
Walk and Ramble - With good paths and a safe environment those who like long distance walking in the wild will find great paths nearby
Flyboard - Fly like Iornman from the pier at Corralejo, organized by the Bahiazul hotel this amazing experience uses water jet powered boots to allow you literally fly above the water. If you've done everything else, why not try flying? website