Restaurants
Dining is an important part of the culture here and be it Spanish, Canarian or British food you'll find some great choices in the many restaurants both in the town, along the coast, and in the various resorts of the area.
Spanish choices
La Taberna - Situated behind the Atlántico Center this reasonable priced restaurant with great steaks, combined with traditional dishes including of course Paella and Tapas. A family run restaurant with both inside tables and those on the pavement outside, talk to the friendly owner who helps to make everybody feel at home is the high point of the experience of dining at La Taberna! website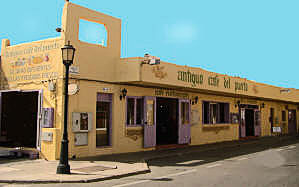 Cafe Antiguo del Puerto - With views over the sea this traditional nautical themed Spanish restaurant has a modern interior but classic service. As popular with the locals as it is with the British visitors try some of the 50 Tapas varieties they offer. Fresh fish and rice dishes are served here. An extensive menu is paired with a respectable wine list, and they will provide cakes for special events. But it is the traditional Paella served in the classic heavy pot that stands out. Sit with a view over the harbour with the masts of yachts poking up. Menus in Spanish, English and German make it easy for you to make your selections from the blackboard or the printed menu. website
Restaurante Avenida - Near the roundabout this Spanish budget restaurant is a great way to taste the local food, and is particularly friendly to big families and children. Serving a late breakfast, lunch and dinner. Serving large portions so don't forget to leave room for dessert!
Bodeguita El Andaluz - Located at 5 Calle Ballena this Austrian/Spanish family run restaurant is open every evening except Sunday, starting at 6:30pm. With refined presentation of simply dishes, from salads to seafood this modern take on traditional Spanish foods is popular with both locals and visitors.
Other European
La Factoria serves Italian food as the owner is from Bologna, while Cafe Latino has a Mediterranean feel as though you are on the Riviera in France.
Something different
As a befits an international resort town there are choices from all over the globe, also try Restaurante Yamatori for Japanese cuisine, or the SlowBoat WOK in the Plaza for an all you can eat Chinese style buffet.
Want to eat on the beach? Go to the Waikiki Beach Cafe and pretend you are in Hawai'i! With tables actually out on the sand, as well as more traditional covered dining areas, this is a all day dining and relaxing experience.